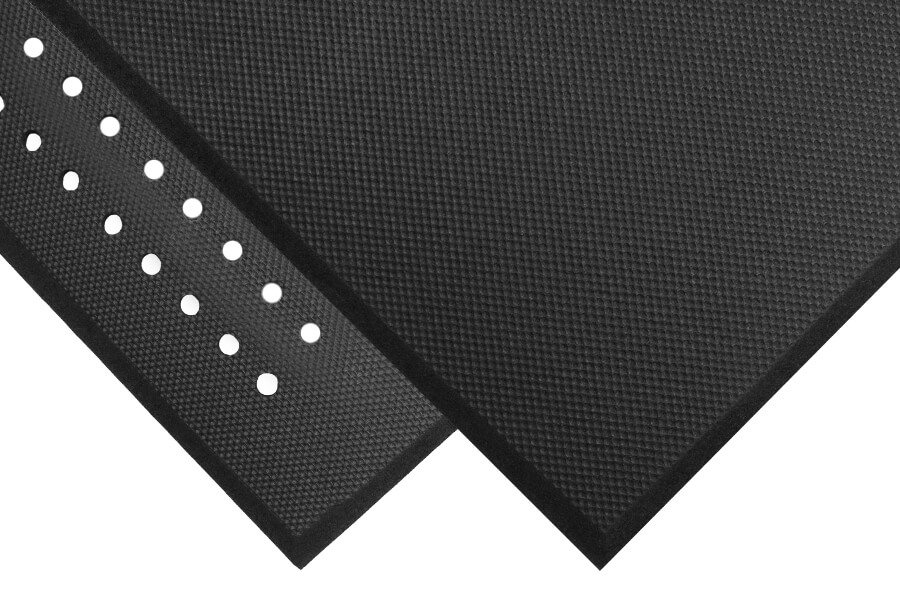 Why and When You Should Use Mats
The use of indoor door mats and outdoor door mats is essential for responsible business owners and employers. Proper floor matting not only reduces risk of slip and fall accidents, it assists in keeping the interior floors of a business clean and tidy, and also provides a great way to add decorative flair to the interior of your store. While some may consider the use of mats optional, it's definitely not something that should be. Especially for business owners, the use of anti-slip commercial mats, entrance mats, welcome mats, and indoor mats is absolutely crucial in ensuring the safety of you, your employees, and your patrons in high-traffic areas. In a word, floor mat usage is necessary. The proper use of all types of mats isn't just a nice way to make your store look presentable–it's a way to keep money in your budget and avoid worker's compensation and slip and fall claims.
According to the CDC, slip and fall accidents are the most common form of accident claim in the retail industry. One of the major reasons slip and falls happen so often is because of the lack of proper non-slip floor mats, incorrect placement or usage of rubber door mats, or by using front door mats that are already excessively worn. By simply providing quality, safe mats in your facility, you can ensure safety and cleanliness, and it can give you peace of mind in knowing you won't expend time, money, and stress on lawsuits, medical claims, and the like. After all, depending on the size of your business, a medical claim has the potential to be absolutely budget-destructive. In fact, personal injury firms agree that proper mat usage is essential in combating slip and fall accidents, especially when it comes to waterproof rubber mats in easy to wet areas like entryways or slippery surfaces like floor tiles. Aside from the safety aspect proper floor mats provide, there is also very heavy evidence that consumers make snap judgements about business aesthetics and how a business appears from the moment they open the door until they leave.
If your business establishment appears unkempt, unwelcoming, and cold, your sales will likely be reflective of this. Finding perfectly sized mats that accommodate your space, reduce the risk of hazard, and look great is something in which the team at Ultimate Mats specializes. Our trained staff of matting experts work closely with business owners and individuals to navigate their needs and assist them with understanding different matting features so that they can make an informed decision about the right matting system for their use. We're also experts at determining where and when you should use high quality mats. As such, we're here to help you examine your space from outside in, and point you to the correct mats for your space. Here, we will take a look at reasons why you will want to include mats in your list of business essentials, and also when you should use them. You don't necessarily need an extra large rubber floor mat to replace that old shag rug–even just adding an outdoor mat, absorbent, clean room mats or even a small carpet mat already improve the safety of your business, and can even add a touch of home decor flair.
Why Should I Use Mats?
If you've just moved into a new business space or are just starting up, you've likely got a list of "essential items" you need to purchase to furnish the new digs. Proper floor mats should be included on that list. Here's why. Safety. The National Floor Safety Institute considers proper floor mats of such great importance that they published a guidebook for business owners about proper mat placement, usage, and material. Their guidelines indicate that not only are mats effective in preventing slips, trips, and falls, they are also essential in covering areas that are already potential hazards (i.e. heavily trafficked areas, or places where moisture could present a risk, like near a water fountain or coffee bar). In identifying hazards where mats can be of use, you'll want to scan your interior and exterior areas for places where foot traffic will be heaviest, areas where moisture like rain, sleet, and/or snow could collect, or where drinks and beverages are consumed, and areas where the flooring could be slick or damaged. If the flooring cannot be repaired, that is a good place for a mat. Cleanliness.
The vast majority of the dirt that will collect on your floors is tracked in on the feet of the very people you want frequenting your establishment-your customers and clients! Obviously, you won't kick your customers out or insist they enter your business with just their socks, so the obvious solution is the use of durable, dirt catching mats outside and inside your entryways. Not only will exterior and interior scraper mats collect dirt, moisture, and debris from the foot traffic that enters your building to help keep your floors clean and beautiful, they'll also save you and your employees' time. Instead of sweeping and vacuuming, you can focus on other, more important business needs. Interior Design. Mats are often used for aesthetics before they're even considered for safety and cleanliness purposes, and it's easy to understand why.
Not only do mats create a more comfortable, welcoming environment, they also add color and texture in a way that is not ostentatious, even if you go with a neutral but sleek charcoal gray with a chevron design. Mats also do double-duty, acting like functional area rugs to cover portions of existing flooring that are in ill-repair, or that are stained or otherwise unsightly. The use of a mat over these areas eliminates the eyesore with something understated and elegant. Visual appeal is important to a business, and your customers and clientele will ascribe certain attributes to you and your products by the condition of your business interior and exterior. As such, not only is it important for you to select beautiful mats, it's also important to ensure they are always clean and in good repair.
When Should I Use Mats?
The short answer to this question is "right now!" While you may see some establishments attempt to use mats only during periods of inclement weather or during certain seasons, this is not only a major inconvenience to the employees who have to constantly relocate and place the mats, it is also just plain pointless. If you have purchased a high quality mat, you can be confident that it will not wear out before it should, so by attempting to only use a mat occasionally, you will not add life to the mat. This being said, here are some not-so-common instances when you can use mats: Medical offices. The use of anti-fatigue mats in medical offices has increased in popularity. Many medical office personnel are on their feet the vast majority of their day. It's important they be provided with proper matting that can help prevent them from experiencing standing-related injury.
These mats work by creating an unstable surface upon which a user stands. The slight instability forces the standing worker's feet and leg muscles to make micro-adjustments. These micro-adjustments prevent the legs and feet from locking into place, causing circulatory issues and leg and foot fatigue.These mats, however, should be mold and mildew resistant so that they do not become a source of bacterial contamination. Get-Fit mats. Another type of anti-fatigue mat, a Get-Fit mat is not a gym mat, but is instead designed for seated workers who are able to stand, at times, for their work. About the size of a door mat, these mats provide comfortable, padded floor space for a single standing user to stand upon. These mats work much like the anti-fatigue mats referenced above, but the idea behind these mats is that a seated worker will be encouraged to stand for a portion of their day, which can burn additional calories and facilitate a healthier work life. Coffee bar/break room runners. An oft overlooked area of your business can be break rooms or bars.
These areas not only see a lot of foot traffic, they are also prone to excess moisture and spills. Sinks, water fountains, coffee pots, ice makers, mini refrigerators, or other forms of cold item storage can all pose hazards to the surrounding floor area. The use of a runner or set of mats in these areas can eliminate the hazard and ensure the safety of those who use these areas. Machine shops. If you oversee any type of machine or repair shop that employs standing machinists, the use of heavy duty anti-fatigue matting is a must. These mats work by creating slight instability (which is not noticeable to the standing employee) but are heavier and more durable than other anti-fatigue mats. These mats are fire resistant and can withstand a worker in a heavy apron, boots, and head gear, such as a welder.
These mats are also slip resistant so workplace accidents due to loss of footing in a work area is something you can worry about less. Mats and matting systems are essential to virtually every type of business. Regardless of whether your place of business accepts patrons or simply accommodates you and a few employees, ensuring workplace floor safety with the use of appropriate, durable floor mats will save you from the worry of potential slips and falls. Additionally, mats can provide aesthetic attractiveness for your business, which is important in developing brand loyalty and brand familiarity. Using mats is a great way to keep your floors clean and tidy, add beauty to your shop, and protect yourself, your employees, and your customers, so find the right mat for your business today at Ultimate Mats!
Sources: